Mentel
Louis Mentel
was born in Covington, Kentucky, the youngest child of German immigrant lithographer
John Henry Mentel
and his Ohio-born wife
Lena Graff
. His siblings included
George Henry
(1/1869),
William Henry
(8/1872), both born in Cincinnatti, Ohio, and
Elizabeth
(2/1879), also born in Covington. John appeared consistently as a lithographer, apparently with his own shop, from the 1880s into the early 1910s. Louis received musical training growing up in piano, and some harmony and theory, possibly attending the famed music conservatory across the river in Cincinnati. The 1900 census, taken in Covington, showed George working either for his father's firm or a local printer, and Louis as still in school.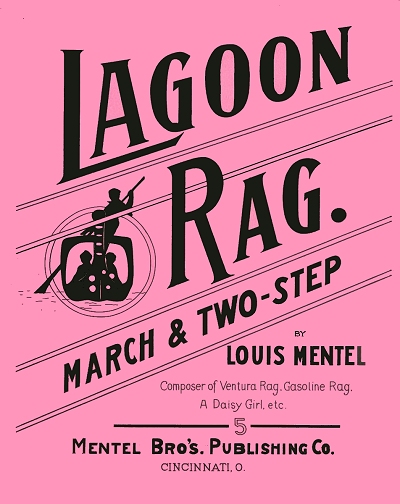 The 1900 to 1906 Covington city directories listed Louis as a student, as he was attending the Cincinnati Conservatory of Music and/or another local school from around 1902 to 1906.
It is likely that John provided some of the artwork and printing for music covers of Cincinnati publishers such as
J.C. Groene
,
Joseph Krolage
,
John Church
, and more. So the Mentels were no stranger to music publishing in this active area. So when Louis composed
Lagoon Breeze
, likely named after the nearby Ludlow Lagoon Amusement Park, he did not have to go too far to get it out on the streets. With assistance from George, and perhaps nominally from his father and his older brother William, Louis formed the Mentel Brothers Music Publishing Company. Starting out slowly, Mentel Brothers was initially little more than a vanity press for Louis, but grew into something a bit more over time, issuing a number of his works into 1914, as well as a few by other local Cincinnati or Covington area composers. He would further honor the Ludlow Lagoon park in 1907 with the
Lagoon Rag
. It is possible that he was performing there around that time, and he was indeed listed in a 1907 Cincinnati directory as the pianist for the Grand Opera House Dancing Academy.
Although Louis had only nominal output overall, amounting to a bit over a baker's dozen of works in the end, the quality of his rags was good enough to warrant sales in distribution networks that went far beyond Cincinnati. It was in 1906 that Mentel's first so-called popular work emerged.
Gasoline Rag
actually ignited Cincinnati a bit, and had subsequent copyrights in 1911 and 1913, with all three dates showing up in the footer at one time or another. It is unclear just how popular Mentel pieces were in the beginning, but when many of them were reissued after a flurry of new copyrights in the early 1910s, they gathered some traction. During the several years following
Gasoline Rag
, some true Cincinnati classics would come from his pen, and were issued in large enough numbers that they are still circulating a century and more later on eBay and antique malls around the United States. Louis also created a couple of sequels.
A Bunch of Noise
was followed up by
More Noise
, and his
Hard Boiled Rag
of 1910 was followed, perhaps logically, by
Scramble Rag
.
Before that time, however, Louis worked largely as a pianist, and perhaps arranger, free-lancing on both sides of the river while maintaining a Covington home address for many years. He may also have been working for his father.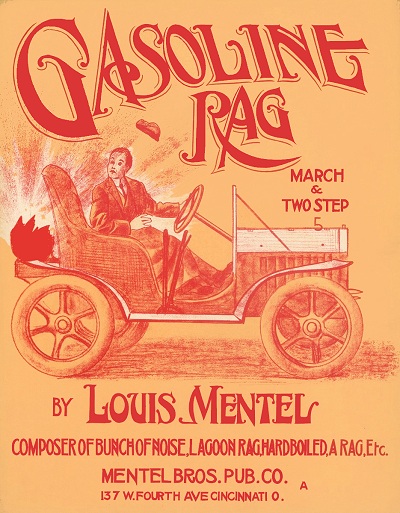 The 1910 census, taken in Covington, showed Louis still residing with his parents, listed as a music publisher. City Directories for for both Cincinnati and Covington from 1912 into the 1920s show Louis as the secretary and treasurer of the Associated Music Publisher's Company, an umbrella name for the brothers' small enterprise. Part of the expansion involved taking on the catalog of Indianapolis publisher
John H. Aufderheide
in 1912, containing a number of good piano rags and assorted songs, which the Mentels distributed over the next several years.
As certain types of dance music were gaining popularity around 1914, Louis wrote what could amount to a suite of such works, which included a maxixe, tango, fox-trot and hesitation waltz, all self-named.
More Mustard
was a thinly veiled follow-up to
Too Much Mustard
by British composer
Cecil Macklin
, right down to a similar cover design. They were all probably used in one of Louis' new enterprises. For a short while he invested in and ran a moving picture theater, sometimes featuring his small orchestra. Louis, his brothers, and a few others invested in the aforementioned Ludlow Lagoon, which was a pleasure resort just to the west of the metropolitan area that was sometimes referred to as Cincinnati's Coney Island, albeit on the Kentucky side of the river. It included a roller coaster over the lagoon, a chute the chutes into the lagoon, a unique raised automated automobile track, and other assorted rides and attractions. The main features of the park included a motorcycle racetrack, an elegant clubhouse, and a dance pavilion, the latter being the primary interest of Louis. For a little while he appeared to have shared duties with long-time resident orchestra leader
Professor Ben Lagby
.
The 1914 Covington directory listed Louis as the president of the park, but that was possibly post-mortem at that time. Early in 1913 it had suffered a damaging flood that required a large investment to open for the season. Then at the height of the 1913 seaqson, there was a tragic daredevil motorcycle accident at the racetrack which sent one of the bikes into a gas lamp, then into the crowd of 5,000 spectaors, covering them with burning oil, ultimately resulting in nine (possibly more) deaths and several more burn injuries from the scalding liquid. Attendance, which had been very strong for several years, suffered during the remainder of the season. and the park failed to open in 1914. Further damage from a July 7, 1915, tornado delayed any near-future opening.
Looking for a different revenue stream associated with music, in 1914, along with
A.W. McBrair
, who was also part of the Associated Music Publishers, he incorporated The Music Shop in Cincinnati to sell Columbia talking machines,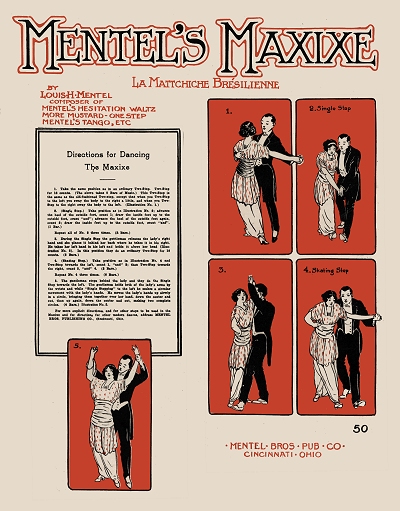 Harvard player pianos, and sheet music. He was listed as a talking machine (phonograph) dealer in the 1915 and 1916 Covington directories. The publishing company also continued to do good business, although there were no contributions by Louis during this period. Then a couple of new investors decided to try and reboot the Ludlow Lagoon in 1917, as noted in The Billboard of June 16, 1917:
The Commonwealth Amusement Company, owners of the Ludlow (KY) Lagoon, have leased the restore to H.K. Shockley of Cincinnati, and Frederick W. Stroutman of Covington, KY., for an indefinite period. Associated with the new management will be Louis Mentel, also of Covington, who will have charge of the dancing pavillion. A small army of workmen are now busy renovating and remodeling the club house, roof garden, rathskeller and other places of amusement. The summer season will open Saturday, June 16.
The 1917 season only had moderate success, although the 1918 Covington directory had Louis as the president of the Commonwealth Amusement Company, directly associated with the resort, through which he was providing musical entertainment and arranged special events. However, the war took its toll during the 1918 season, as did a shortage of grain which resulted in a shortage of two of their primary commodities, liquor and beer. Between that and the recent history of mishaps, Ludlow Lagoon never recovered sufficiently enough to continue, and it was closed permanently in 1919.
Louis, however, had not remained idle, and while working with phonographs for his company, he came up with a device that phonograph owners of the 1940s and later could not imagine doing without.
A patent sketch of the phonograph arm return invented by Louis Mentel.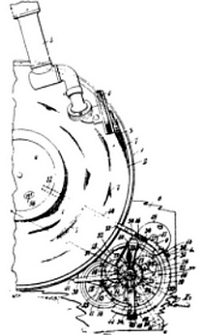 Mentel obtained patent No. 1,325,648 in 1917 for a "phonograph appliance" which was essentially an automated tone arm that returned the arm to its rest after a record is over, also stopping the turntable, and cleaning the record with a brush that also served as a gauge for record size. At the very least, this was the precursor of what would become the record changer, just without the element of the stacked records. It may also have been in conjuction with his firm, which on his September, 1918, draft record was listed under Associated Music Publisher's Company. They had also issued his last known composition, a wartime anthem from 1917, co-written with one of Louis' associates. Mention of a damaging fire in 1920 suggests the possibility that Louis and William also manufactured phonographs for a time until their plant was burned.
From 1919 forward, it appears that Louis worked primarily as a musician while not checking in at the publishing company. The 1920 census showed him residing with his sister and recently-widowed mother (John Mentel died on April 9, 1917), again listing his role as the sectetary and treasurer of the publishing company. Covington directories listed him as a pianist during this period. By the mid-1920s, Louis was running a music store, while his brothers were still engaged in their respective roles as a printer and a bookkeeper. Mentions of the sheet music publishing company all but disappear from directories after 1924. While his store was located on East Pearl Street in Cincinnati, he still commuted across the river from the family home Covington, finally moving to Cincinnati in 1927 after marrying
Pearl Glazer
. The following year Louis added radios to his lineup of pianos, player pianos, assorted band and orchestra instruments, and sheet music. Radios would become a staple during the coming Great Depression.
The 1930 enumeration showed Louis and Pearl living in Cincinatti, also hosting his mother-in-law, concidentally named Lena as was his own mother. He was now listed as a merchant retailer of pianos and radios. The last mention of Associated Music Publishers was in the 1933 Cincinnati city directory, after which time at least some of copyrights and remaining inventory were presumably sold off to another publishing house. Lena Mentel died in 1934 in Covington. As the retail business was difficult during the Great Depression, Louis took on yet another side business, that of selling dime novelties, which were usually small entertaining items at low cost to the consumer, and fair markup to the retailer. This was indeed his listed vocation in the 1940 census, while Pearl was working as a private secretary.
Over the next decade, Louis continued to expand his music store, particularly in the profitable postwar years from 1946 into the 1950s. The 1950 census readily echoed his status as the proprietor, with Pearl working in a dentist's office. While they likely had never left his general inventory, he added phonograph records to the pianos in the city directory listings for his store at 1110 Vine in Cincinnati. He appears to have remained in the business until nearly the time of his death in 1955 at age 74. Pearl survived him until 1983. For reasons that were not found, Louis' remains were not interred into Spring Grove Cemetery in Cincinnati until 1975, over 20 years post-mortem. During that period, however, sheet music collectors began rediscovering his work of the 1900s and 1910s, and today there is a solid knowledge of Louis Mentel among ragtime fans, either as a publisher or a composer, and a strong representative of Cincinnati and Ohio Valley ragtime.